Rencana Strategis
Sasaran strategis fakultas untuk menjadi fakultas yang unggul dibidang Research and Enterpreneurial University pada tahun 2023 dituangkan dalam Renstra periode 2019-2023 yang merupakan penjabaran dari Renstra Universitas Telkom 2019-2023. Pada tahun 2019 dan 2020 Telkom University memperkuat fondasi untuk mewujudkan digital education (bidang pendidikan). Pada tahun 2021 Telkom University memperkuat kualitas penelitian bertaraf internasional (bidang penelitian). Sedangkan pada tahun 2022 dan 2023, Telkom University mulai melangkah menuju enterpreneurial university yang dijelaskan pada gambar berikut.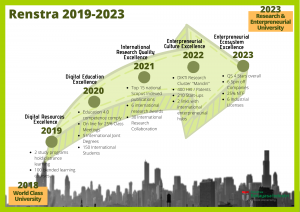 2019: Digital Resources Excellence, berfokus pada penciptaan 2 program studi di FRI mengadakan pembelajaran jarak jauh, dan 100 blended learning courses.
2020: Digital Education Excellence, berfokus pada educational 4.0 competence comply, online for 25% Class Meetings, 5 International Joint Degrees, dan 150 International Student.
2021: International Research Quality Excellence, berfokus untuk meraih Top 15 National Scopus Indexed publications, 6 international research awards, dan 30 international research collaboration.
2022: Enterpreneurial Culture Excellence, berfokus pada DIKTI Research Cluster "Mandiri", 400 HKI/paten, 210 start-ups, dan 2 links with international enterpreneurial hubs.
2023: Enterpreneurial  Ecosystem Excellence, berfokus pada QS 4 stars overall, 6 spin off companies, 25% NTF, dan 6 industrial licenses.